NEW WORLD HANDICAPPING SYSTEM
The World Handicap System will launch on 2nd November 2020. It is designed to welcome more players, to make golf easier to understand and to give all golfers a handicap which is portable all around the globe.
It will replace the six different systems currently used by over 15 million golfers in more than 80 countries.
It has been developed by The R&A and The United States Golf Association (USGA), supported by the world's handicapping authorities, including CONGU, which represents the four home countries of Great Britain and Ireland.
To make the game more enjoyable, the new system will include:
Course rating and slope rating
Minimum number of scores to obtain a handicap
Competitive and recreational scores to count for handicap
Handicaps will be calculated from an average of recent scores
Maximum handicap of 54
Abnormal course and weather conditions adjustments
You can now watch either a brief video explaining the new system or a more detailed version.
Short version
Long version
What happens now?
In the next couple of weeks Intelligent Golf (our service provider) will upload all of the player data, including email addresses, to England Golf. This is a requirement of the new handicapping system and this information will not be used by any third parties. Please make the club aware if you have any concerns before this process goes ahead.
On 2nd November the system will go live and your new handicaps will be calculated. As you will have noted from the long version of the new system it seems a lot more complicated. However, on a day to day basis the onus is no longer on you, the player, to know what your handicap is at any point. The system will update every night and you should be able to view your exact Handicap Index at any time.
All rounds can qualify for handicap whether in compatition or not but for a card to count you must register on the club touchscreen before you play. Here are the formats which do allow handicap cards to be submitted.
The following formats are the only ones authorised for qualifying scores. Do not get confused between a fourball playing format and playing in a group of 4. Even if playing in a "fourball" group as long as you are not competing in pairs and you are scoring individually you can submit cards.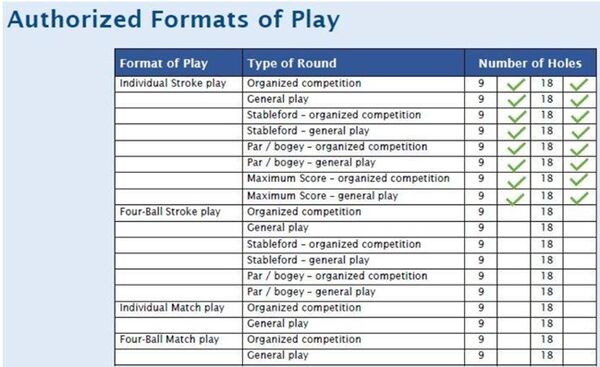 The new World Handicapping System also means that you can submit qualifying scores at other course. To do that you must find the touchscreen portal AT THAT CLUB before play and register and on the same portal enter your score after play. Please check that the course conditions are normal and be clear about which tees you decide to play from.
Some of this process may be available via the Deanwood/Intelligent Golf App. More details will be availble soon.
FROM MONDAY 2nd November...
There will be new scorecards available which will have the new Course Ratings and Slope Ratings for each set of tees. They will also include a NEW Stroke Index for the course and a 9 hole Stroke Index as well. The large boards on each tee will be amended in the next few weeks. There will also be temporary signs up around the clubhouse entrance for you to look up your Handicap Allowance.
Your personal Handicap Index should be updated automatically on Sunday night so by Monday morning you (and everyone else in the UK) should know what your new level is. There will be some issues and lots of questions so please ask away and we will attempt to answer what we can immediately or ask the relevant authority if we can't.
We will publish a list on Monday but will not be printing a copy of the handicap list going forward as it will change on a daily basis and is always available via the website.
When you know your Handicap Index (what you used to just call your handicap) there will be a table available for whichever tee you are playing from (see below). This will also be available on noticeboards and by the touchscreen outside the Pro Shop.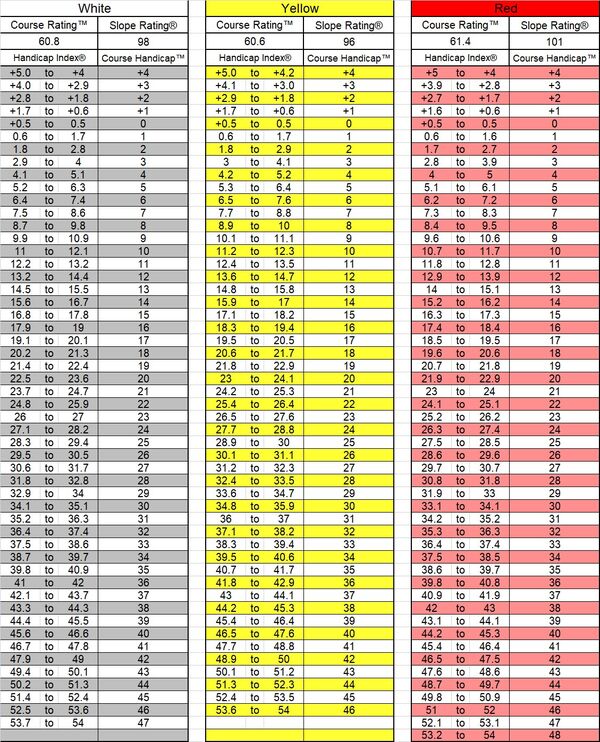 INSTRUCTIONS
* When using the table, find the range containing your Handicap Index® in the left column. Play with the Course Handicap™ which corresponds with it in the right column.
* Please make sure that the tees from which you are playing correspond with the tees for which this table applies.
Once you know your Course Handicap you are ok to start your game unless you are playing in a match or competition.
If you are playing a competition you need to apply the appropriate Handicap Allowance.

IMPORTANT - Currently the White & Yellow tees are rated for men and the Red tees are rated for women. We are asking for all tees to be rated for both genders so all our tees can be gender neutral but that is not yet the case.
Previously when men & women compete against each other there was an adjustment because of the differences between the Standard Scratch Score on the different tees. At Deanwood that was +3 for ladies before any competition handicap allowances were applied.
Now it is a different equation and with new Course Ratings the difference is much smaller. Here goes with an explanation!
Medal play where men play on the white tees and Ladies from the red tees.
For singles stroke play the stroke allowance is 95% of the Course Handicap. In addition, because the players are playing from tees with different Course Ratings, the competitor playing over the higher rated course receives the difference in the CR values added to the Course Handicap after the application of the stroke allowance. At Deanwood this is a difference of just 0.6 (yellow tee 0.8) so it will either be no difference or slightly more likely it will add 1 stroke to a ladies Handicap Allowance for the round. As before you round up from .5 .
Stroke Play Competitions: Stableford & Par/Bogey
As the format is singles stroke play, the stroke allowance is 95% of the Course Handicap. In addition, as both Stableford and Par/Bogey formats are scored against the Par of the course, rather than the Course Rating, the Playing Handicap calculation includes an adjustment to reflect the difference to 'play to handicap' between the mixed/multi-tee courses.
Number of points to 'play to handicap' for a given set of tees = 36 – (CR - Par):
Mens White Tees CR 60.8 - Par 64 = -3.2 therefore 36 - -3.2 = 39.2 = 39
Ladies Red Tees CR 61.4 - Par 64 = -2.6 therefore 36 - -2.6 = 38.6 = 39
So there would be no adjustment for ladies playing stableford or bogey format.