Charity Day Results
On behalf of Club Captain Keith Endersby we would like to thank everyone who played in, sponsored, donated to or bought raffle tickets for The Deans' Annual Charity Day. £1492.00 was raised which will be match funded by The Greenham Trust to nearly £3000 so well done!
21 teams of 3 players played Texas Scramble and the results sheet is available below. Pictures may soon also appear of the winners who were Richard Stapleton, Graham Bradfield & Roger King with a score of 49.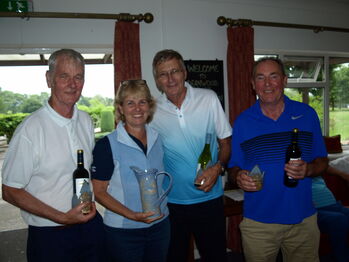 Nigel Hart, Deanwoods busy PGA Professional, gave up his morning to offer a beat the Pro Challenge on the 4th hole which was won by Tom Lane.
Prizes were awarded by ITV's Penny Silvester, who also featured in the runners up team with Captain Keith Endersby and Mark Grantham.
The course received much praise and all enjoyed a pleasant lunch before the prizegiving.
A brilliant Day all round organised by Mike Palmer, Roy Kennedy and ....... . Thank you.